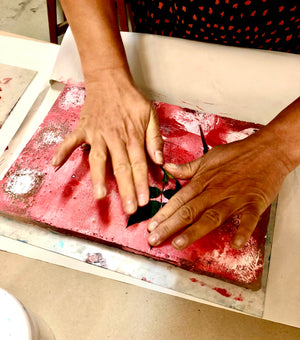 WORKSHOP || GELLI PRINTING ||  ART FOR EVERYONE -
Sale price Price $150.00 Regular price Unit price / per
Tax included.
 The painting workshop with "GEL PLATE PRINTING" is an excellent tool for beginners and experienced artists. If you want to create unique, exciting backgrounds, the "Gel Printing Plate" is the perfect tool. With a few simple steps and many layers, you create unique backgrounds for cards, layouts, art journals, gift wraps, etc.

DAY: SUNDAY
TIME: at 1 pm - 7 pm 
INCLUDED: All materials with paper, colors, and gel plates, as well as coffee and a light snack, are included.

 

Yes, only your imagination sets limits with Gel Printing.
Create your postcards, diaries, gift wrap, or your memorable work of art using Gel Plate, an art graphic printing technique.You learn step-by-step how to create templates and paper stencils. Recreate different motifs using leaves or geometric shapes. After this workshop, you will have several ideas, including Christmas cards or gift wrapping.

As a bonus, you will receive a simple instructions to step by step create your own permanent Gel Plate (/Gelli Plate) at home. This is an affordable method than buying in stores.

ABOUT THE TECHNIQUE: Monotypes are a graphic printing technique where the artist puts color directly on a completely untreated plate (Gel plate or metal plate) and then transfers the color to the paper by running the paper and plate through a printing press.